… get ready to see something SPECIAL …
CONSULTANCY • PLANNING • REALISATION
…everything except ordinary!
INDIVIDUALLY – PERSONALLY – UNIQUE
Mille Deco offers you the opportunity to put together your own table according to your wishes and requirements. Experience a foretaste of your personal table with our configurator. The innovative concept is suitable for all uses. Whether indoor as a dining table, living room and coffee table, standing and counter table or outdoor as a terrace or garden table. Design your own table with us and decide for yourself about the table frame and table top, everything is possible.
TABLE BASE SELECTABLE IN
Size length, width and height
Shape square, oval, round etc.
Color Solid paint, effects such as glitter, mica or similar
Material Stainless steel, steel, aluminum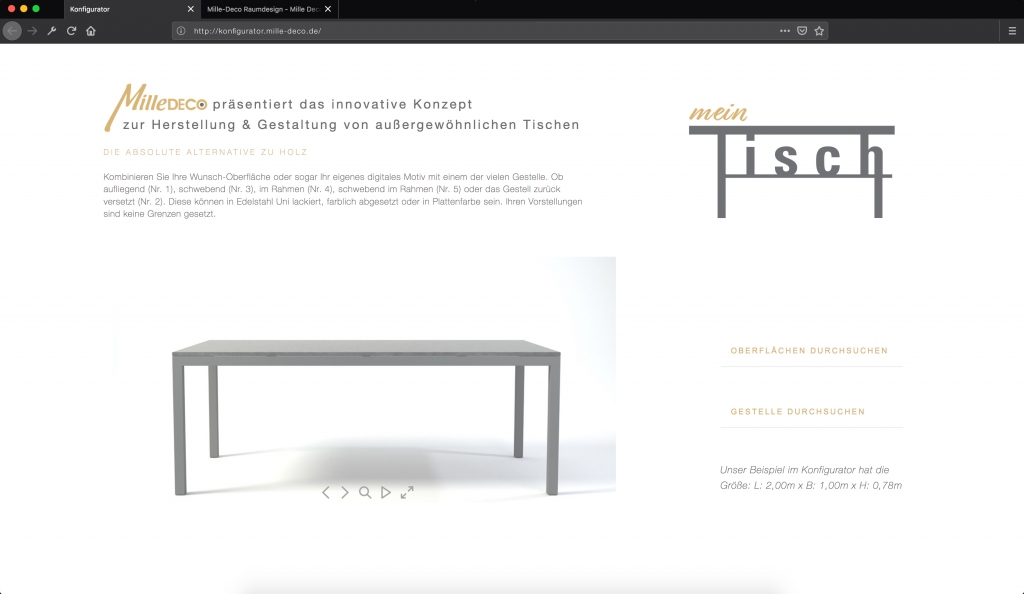 TABLE TOP SELECTABLE IN
Size, Shape, Color,
Material MDF,Purenit, Alu
Optics Solid colors, effects such as glitter, mica, digital motifs, concrete, rust, gold, etc.
Structure smooth, slightly rough, slightly structured etc.
If you have any further questions,
our team at Mille-Deco ia always happy to help!